Anyone who has aspired to do great things and achieve more in work and life will tell you that productivity is key. And as often as it is coveted, achieving productivity is easier said than done. But having the right productivity apps will help you eliminate unfruitfulness and reach peak productivity levels.
So in this article, I walk you through the top tools I've used to help me achieve more with lesser input. Let's dive in.
Why Productivity Tools Matter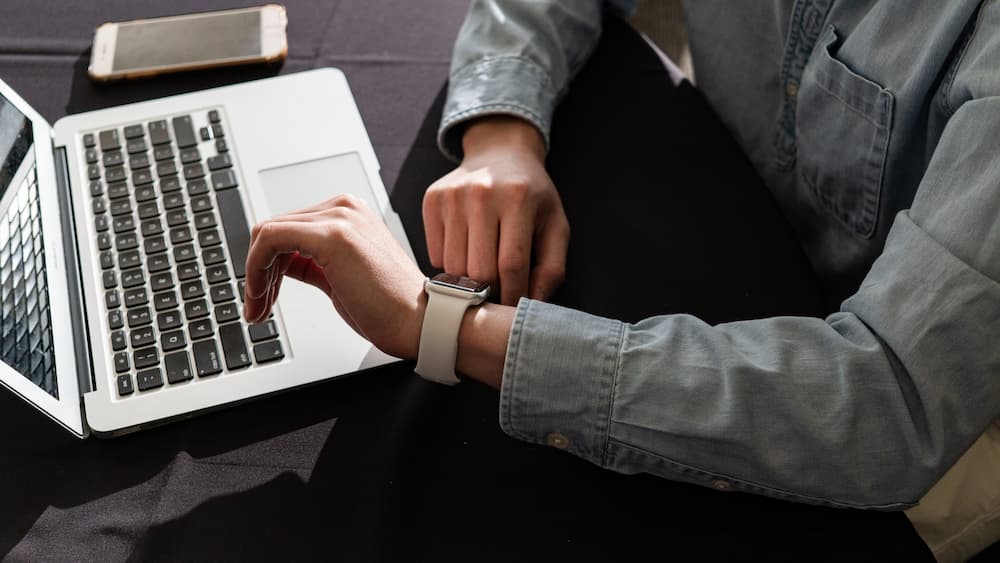 One of my biggest pet peeves in life (aside from coffee with sugar) is the word "busy." Ever since I was in college, I would try my extreme best to avoid busyness. That didn't mean that I didn't do much. In fact, I was always working on something. Until this very day, I've carried that need to achieve, always trying to make the most of my time, work, and life.
I don't know if it was the realization that we have such a short life and that we need to maximize every minute, or my constant desire to produce something that enriched myself and others. What I do know is that I've always had an obsession with productivity.
The average professional is only productive for 2 hours and 53 minutes daily. That's barely 35% of your work day. And that's a problem because productivity has so many benefits.
Some of the major ones are the following:
You Achieve More
Have you ever ended a day feeling highly unsatisfied with what you got done? One way you can have more fulfilling days is by optimizing your habits and life for maximum productivity. When we're productive, we get to do more. We accomplish more of our goals, finish more of our tasks, help more people, and so on.
You Do Less
I can't tell if I'm extremely driven or strategically lazy. I'm always trying to get things done in the fastest time possible and with the least effort. If you've ever felt like you're the kind of person that just wants a project or task to be over so you can move to the next one, you desire productivity more than anything,
You Avoid Burn Out
By using the best personal productivity apps, you can manage your time and energy well. You get more done with less effort and, thus, work less and stress less. Because you see results without having to overwhelm yourself every time, you avoid burnout.
You Get More Results
When you're productive, you don't just do more with less effort. You also end up getting more results. For instance, focusing on productivity could mean a freelancer can serve more clients and thus get paid more. A sales agent could get and talk to more prospects and get more sales.
These are just some examples of the benefits you could enjoy if you aimed to be more productive in what you do.
And using the best productivity apps plays a crucial role in you achieving greater productivity.
Types of Productivity Apps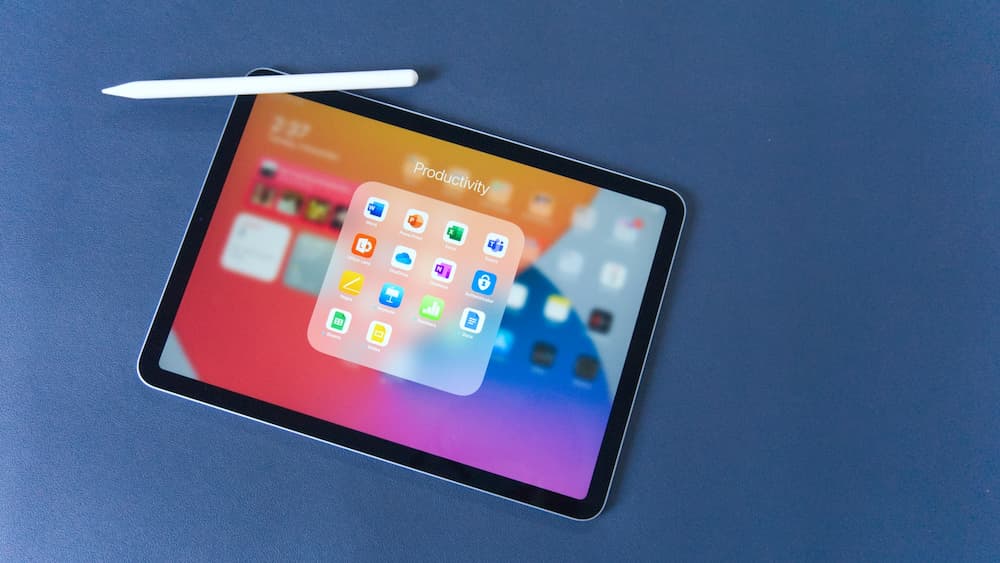 So before we move specifically into the best apps for productivity, it's good to know why types of productivity apps you should be dealing with. While many apps people from various fields with their productivity, these are the general kinds that anyone from any background or profession can use.
Task Management
Task management apps help you manage your personal to-do list. These apps allow you to create lists of deliverables, track progress, check out completed tasks, and assign deadlines, among other things.
You can use a task management system to keep a list of ad hoc and repetitive tasks. Having task management apps is important because it helps you keep track of all the things on your to-do lists that you need to complete and when you need to complete them.
Project Management Software
An expanded version of task management apps, project management software helps you track to-do lists of multiple people, making it great for tracking the progress of a team or company.
Project management tools make it easy for you to manage your team's deliverables, assign project tasks, evaluate performance, and other project management-related activities. Project management apps allow you to delegate and monitor your team members' tasks.
Task Automation Tools
Sometimes it's better to automate repetitive tasks that don't need your approval. These activities include data gathering, data entry, task management, idea generation, and so on. You can also use these productivity tools to create tasks on repeat if you do them every week.
The growth of artificial intelligence-based tools now allows you to automate several parts of your workflow. And AI will continue to grow over the next few years. One study showed that the AI industry could experience 13x growth over the next 8 years.
By automating simple administrative tasks, you save small chunks of your time that add up over the week, month, and year. Next thing you know, you're saving at least a few hours every week and allocating them to activities that add more value to your workday.
Time Management
Another set of productivity app types you can use is a time management tool, which can include software and apps you use for time tracking, work hours recording, and time management.
Most often, companies use time-tracking software to track the clock-in and clock-out of employees. However, time-tracking apps can also be used to track billable hours or manage time spent on a project.
A time management app helps you ensure you're making the best use of your time by helping you monitor where you spend your time. You can then use these data points to evaluate your time allocation and find means to optimize your time management more.
Collaboration Tools
The next time of productivity app is a collaboration software, which includes team chat app solutions, software for voice and video calls, and other communication tools. This works best for hybrid and work teams because it allows you to exchange messages in real-time, bringing more agility to your workflow.
While highly helpful with controlled usage, collaboration, and communication tools can also sometimes be the main cause of unproductivity. This is especially true when you're easily distracted by direct messages from superiors or colleagues.
Later, we'll discuss how to use these apps alongside app blockers to control when you use these tools and when you should ignore them.
24 Best Productivity Apps for Optimizing Your Workday
So now that you know the productivity app types you can use for task management, time tracking, and so on, let's get more specific.
I've put together a list of the best apps to be productive. Most, if not all, of them, I use myself and have reaped abundant benefits from when used well.
So without further ado, here are the twenty-four of the best productivity apps to help you optimize your work.
1. Notion
Best for: Overall Productivity

Ah, the mother of all productivity apps! Notion is an absolute must-have productivity app if you want to streamline your work, study, or operations. I've been a big Notion fan for some time now, and for a good reason. This tool is great for managing tasks and projects, taking important notes, writing content, managing SOPs, and so on.
With Notion, you have a whole suite of tools at your disposal, including templates, workflows, and frameworks like the following:
Task management tools (i.e. to-do list templates, checklists, and trackers)
Project management tool templates in Kanban, List, Table, and Timeline formats
Directories
Note-taking templates
And so many more
Notion provides you with a blank template, which is perfect if you like building a productivity tool from scratch. If you don't, you can always use any of the templates Notion provides its users.
Personally, I find Notion to be a great to-do list app and note-taking app in one. It's also great for managing team tasks, as it lets you create tasks and assign them to others.
Notion, however, is more than your average to-do list app. The productivity tool also has one of the most reliable mobile apps among productivity tools, which lets you use and sync your to-do lists and notes across all your devices.
Recently, Notion also released an artificial intelligence that writes content for you. You can also use it to reword written content, suggest to-do lists, and a whole lot more! Its AI is in its early stages, but what they have now already sets it above to-do list apps in the market.
Notion has a free version that should suffice for most users. But if you do want to upgrade, you can do so for a very minimal fee. Paid plans start at $8 a month.
2. ChatGPT
Best for: Content Generation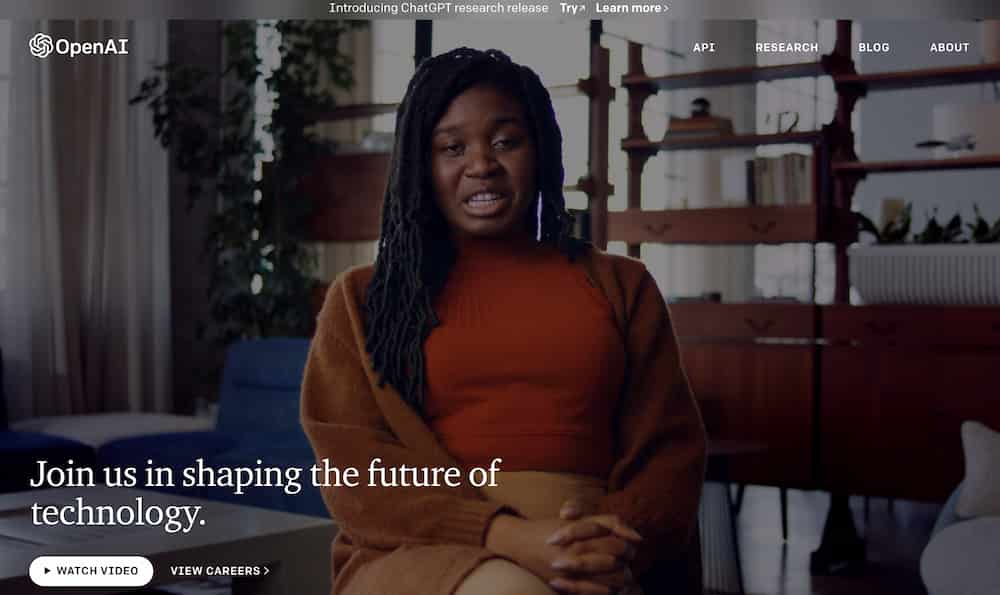 Another of my personal productivity apps, ChatGPT is a new entry and arguably one of the most ground-breaking AI-based platforms in the world right now. Build on OpenAI, ChatGPT is a revolutionary app that does all sorts of wonders, including writing content, brainstorming ideas, creating code, and so much more.
One of the most popular use cases of ChatGPT is to jumpstart your content creation. Take note: I don't recommend just copying and pasting content from ChatGPT. Instead, you should use what the productivity app creates as your base template and edit accordingly.
If you're a writer, editor, or researcher, you could develop anything from blog outlines, scripts, social media captions, and other forms of written content from ChatGPT. I've also used ChatGPT for internal communications, like email templates, SOPs, operations manuals, HR manuals, and more.
Currently, ChatGPT is a free tool, making it one of the best free productivity apps out there.
3. Asana
Best for: Project Management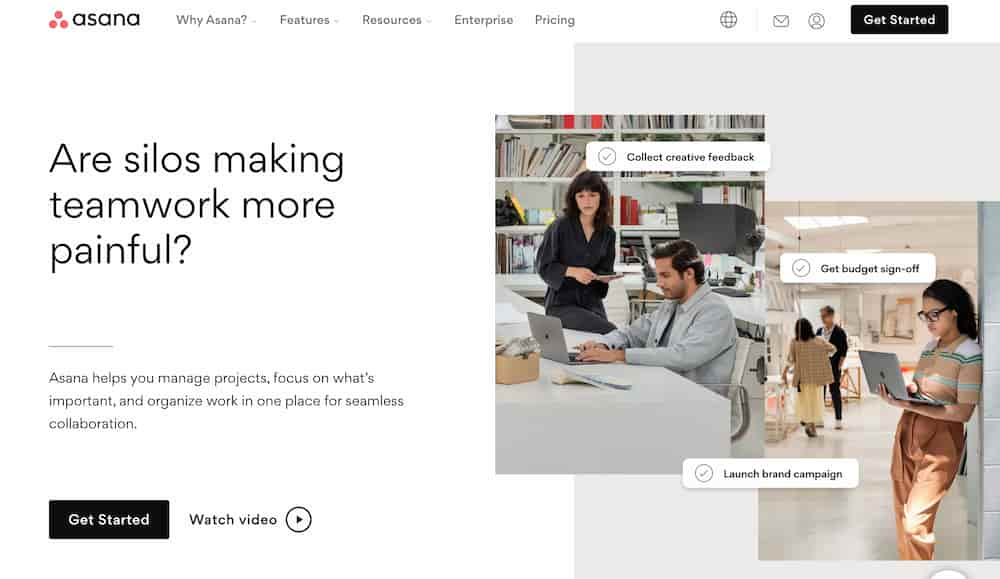 Another option if you're looking for a task management app or project management tool is Asana.
This is a highly popular tool that many teams use to manage projects, assign tasks, measure progress, and other project management needs.
What I like about Asana is how well you can organize all your projects in their internal dashboard and assign due dates. There's also the comments section that lets you gather feedback on team projects and measure project progress, among many other productivity features.
You can also easily view tasks assigned to you in your dashboard, so you don't get overwhelmed with all the moving parts of a project. You can also easily assign tasks to other team members. Asana has a responsive web app and a mobile app for iOS/ Android.
The productivity tool also has a highly robust free version, making it my top choice for free productivity apps for project management. Of course, Asana is a business, so they have paid plans with all sorts of great upgrades too. Asana's paid plans start at $10.99 a month.
4. Google Docs
Best for: Document Creation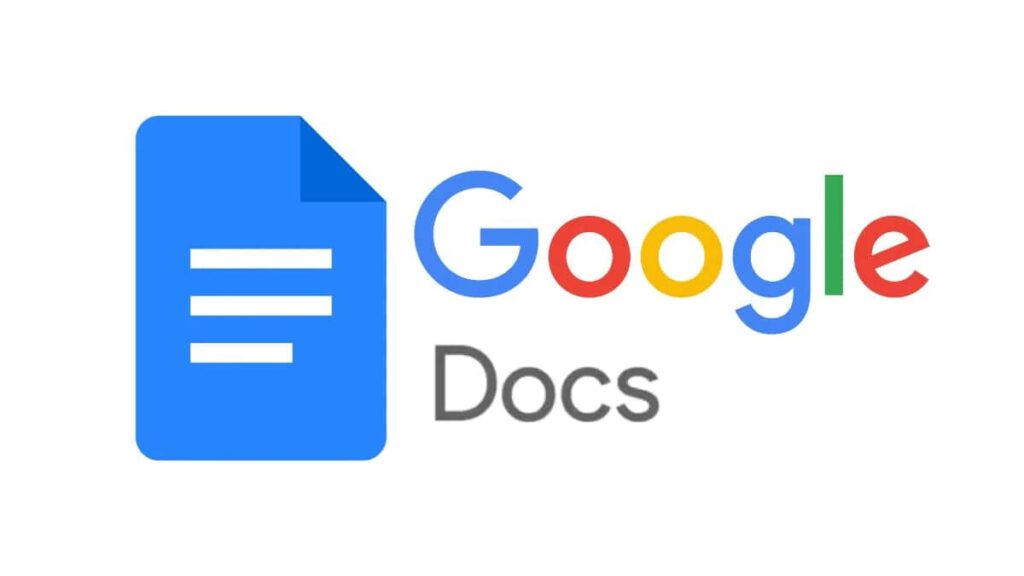 If you need a free tool for document creation, note-taking, and writing, Google Docs is a definite must-have. It's part of a larger suite of tools called Google Workspace, owned by tech giant Alphabet.
Google Docs is very much like Microsoft Word but as a cloud-based service. This is a productivity app because it's great for collaboration, note-taking, note-sharing, and documentation.
As a writer by trade, I depend on Google Docs heavily when creating blog posts, books, operations manuals, plans, and more. You can also use Google Docs as a way to share invoices and contracts with clients and customers.
Google Docs is definitely one of the best go-to note-taking apps in the market. It does more than that, of course, so you can try it out for yourself. Google Docs is free for use as long as you don't go beyond 15 GB of storage.
5. Google Calendar
Best for: Calendaring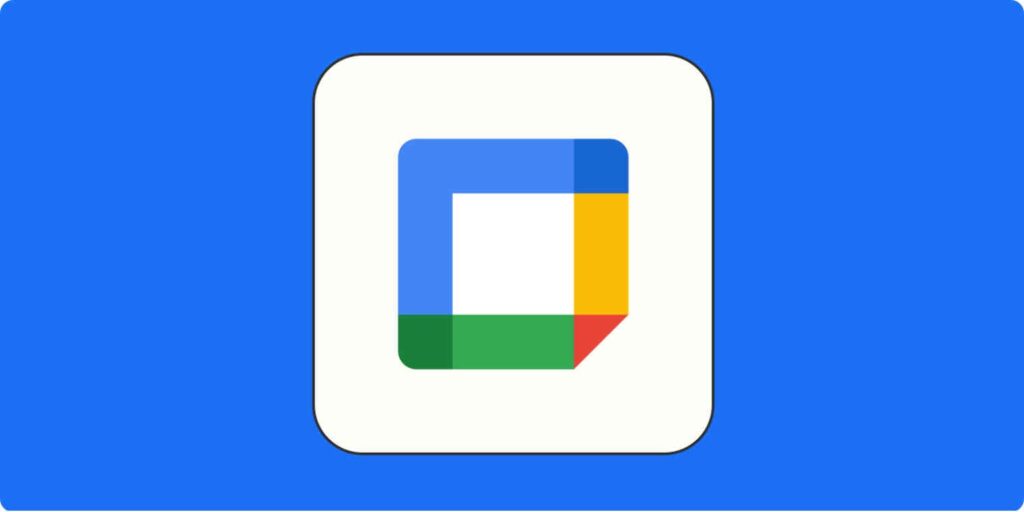 Here's another productivity app from Google— Google Calendar. Also cloud-based, this tool lets you keep and share your calendar with your team members, colleagues, and clients. Google Calendar has many great features, including integration with Zoom and Google meet for setting up video meetings.
Google Calendar also integrates with other productivity tools for appointment setting, including the next productivity app on this list.
6. Calendly
Best for: Appointment Setting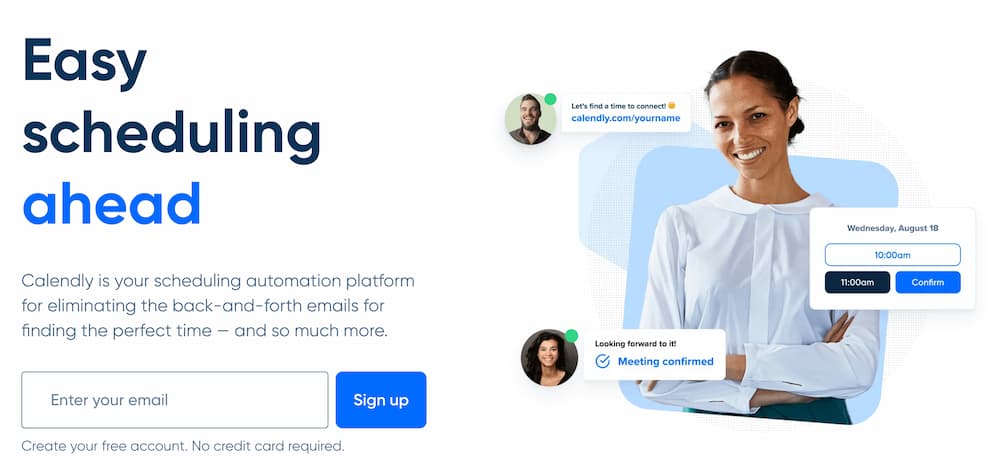 Calendly is an appointment-setting tool that executives, coaches, consultants, and doctors can send to clients and have them book appointments seamlessly.
The app looks at your digital calendar and checks for open time slots. It then presents those options to someone who wants to book a time with you on an easy-to-view calendar on a landing page.
People can then proceed to select a time to meet with you. When they do, that slot will appear on your Calendar apps (mostly Google Calendar) and get blocked. You can also choose to have multiple slots in one time block and set up email and SMS reminders as the meeting time approaches.
You can use Calendly's free version, or upgrade to a paid plan for more features, like payment capabilities and many more. A paid plan starts at $8 a month.
7. Zapier
Best for: Integrations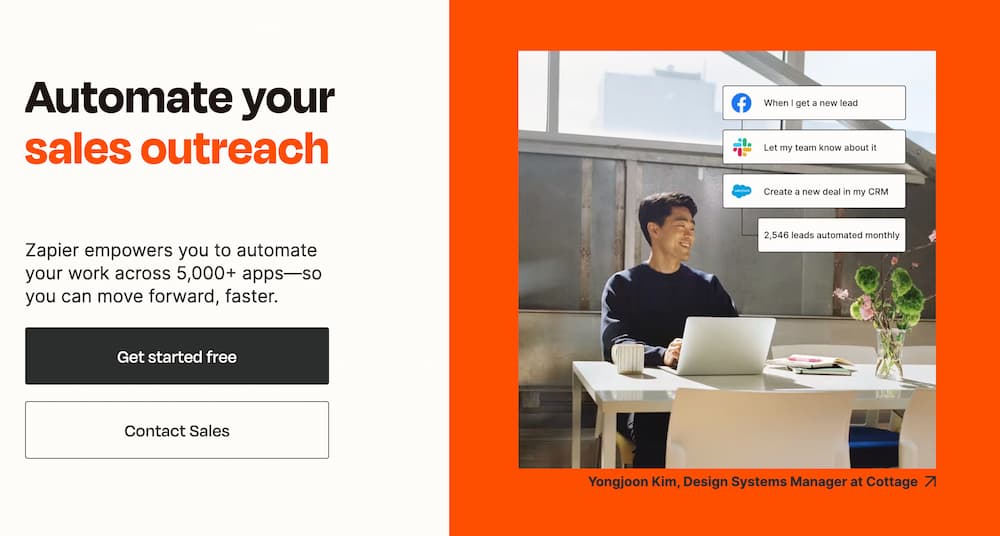 This productivity app might require a higher level of technical knowledge, but it's a completely robust tool when you figure it out. Zapier can integrate apps, so that they communicate, exchange data, and perform automated functions for you.
Let's say you have a Google Spreadsheet, and you want all the data that goes on that to automatically be added to your Notion Board. Or if you want all appointments on your Calendar app to go to your Asana board.
Other automated tasks Zapier can take care of include the following:
Update task statuses
Create to-do lists
Assign tasks
Share data and information
Create backups
Organize content
Share documents
And so many more!
Zapier connects hundreds of tools for you and automates small tasks, so you don't have to do them manually. With the free personal plan, you can get up to 100 automated tasks a month. Beyond that, you'll need to start paying for a premium plan starting at $19.99 a month.
8. Slack
Best for: Team Communications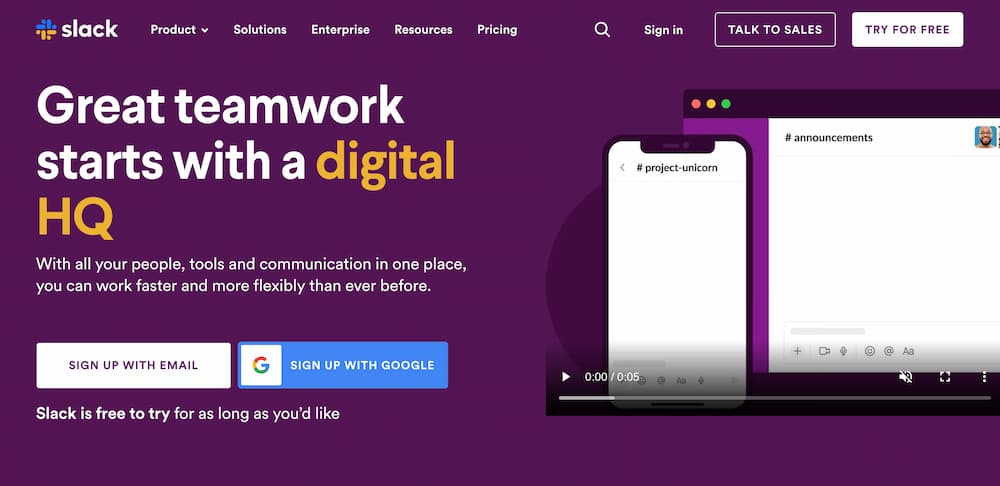 One of the top work productivity apps for communicating with team members, Slack is a tool every remote or hybrid work team should have. Even in-office teams can benefit from it. Slack is primarily a team chat app, but it also lets you do audio and video calls.
Moreover, Slack has a library of tools to automate many team functions, like leave management, reminders, and time tracking tools, among many other apps. Check out all Slack's apps and integrations to see what you can do with this robust productivity app.
9. Geekbot
Best for: Team Reports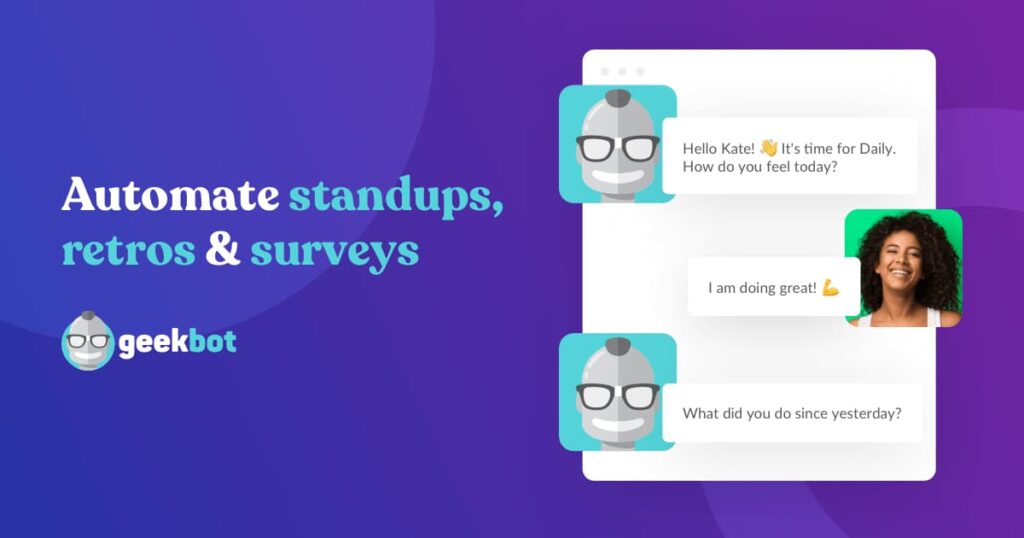 Geekbot is an asynchronous reporting app that integrates with Slack and Microsoft Teams. You can use it to collect work retrospectives and check-ins from your team. It's perfect for teams that want daily stand-ups without having to set meetings or calls.
The app sends a prompt to team members individually and asks them to share things they worked on for the day.
Individual team members then proceed to provide a run down of things they were able to accomplish, tasks they need help with, challenges they encountered, and virtually any questions you want your team to report regularly.
You can also set weekly rhythm reports if that's what works for your team.
Geekbot has a free plan for up to 10 members. After that, it's a minimal $2.50 a month for the premium plan.
10. Forest App
Best for: Focus Gamification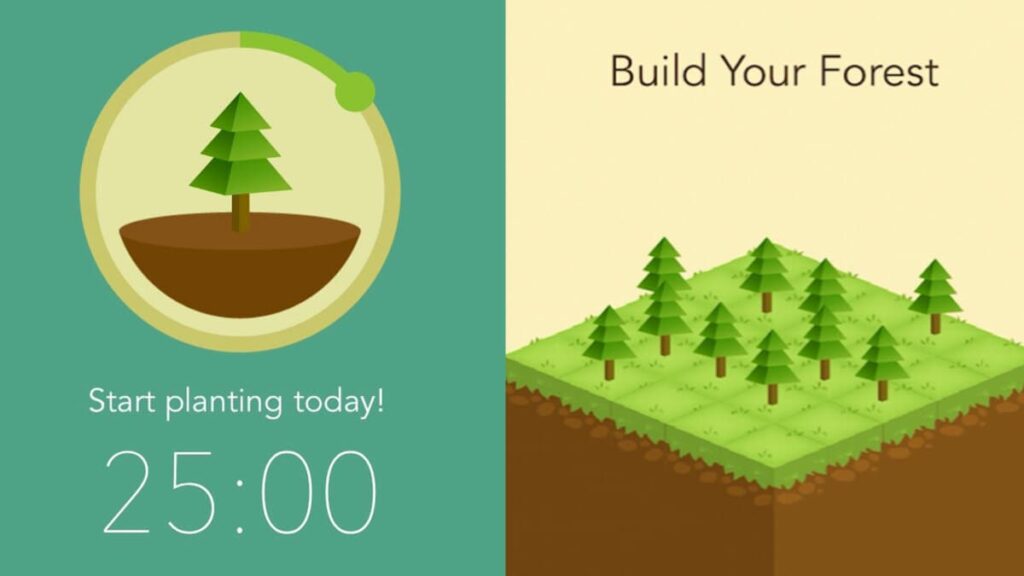 Forest is an app that helps you stay focused by gamifying your deep work. Whenever you need to focus on a task and stay away from your phone, you can plant a tree in Forest app. The longer you stay away from the app, the more your seed will grow until it becomes a tree.
However, if you can't resist the need to pick up your phone, your tree will whither. It's a great way to challenge you to beat your phone addiction and focus on the important things on your to-do list, such as studying, finishing a task, or staying in a meeting without checking your phone.
Forest app is a paid tool available for only $2 one time. It's available on iOS/ Android. It also has a browser extension that works for your Windows/ Mac laptops and desktops.
11. Zoom
Best for: Video Calls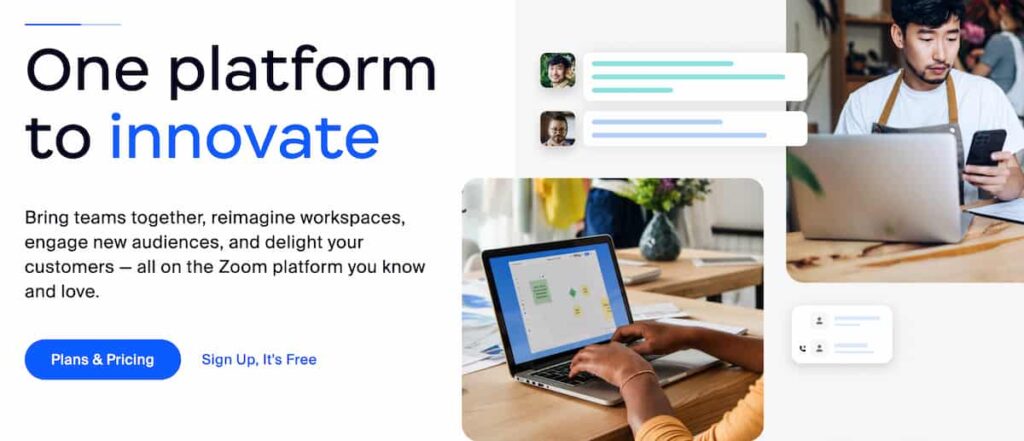 During the pandemic, many of us got acquainted with video calls for meetings with team members. And no app grew in popularity faster than Zoom. You've used it for meetings, webinars, conferences, and more.
Zoom is a video conferencing app with all kinds of capabilities. You have different apps to enhance an online meeting experience, including presentation widgets, timers, sound effects, and more.
Of course, there was a growth of cases of Zoom fatigue over time. Still, Zoom used in the right cadence and moderation can really help keep your team aligned and everyone on the same page. This helps your team align better so you can achieve more collectively and individually.
There's also a mobile app for Zoom compatible with iOS/ Android, so you can take video calls on your mobile devices.
Zoom is free for meetings up to 40 minutes. Beyond that, you can pick up a paid plan starting at $14.99 a month.
12. Google Meet
Best for: Audio and Video Calls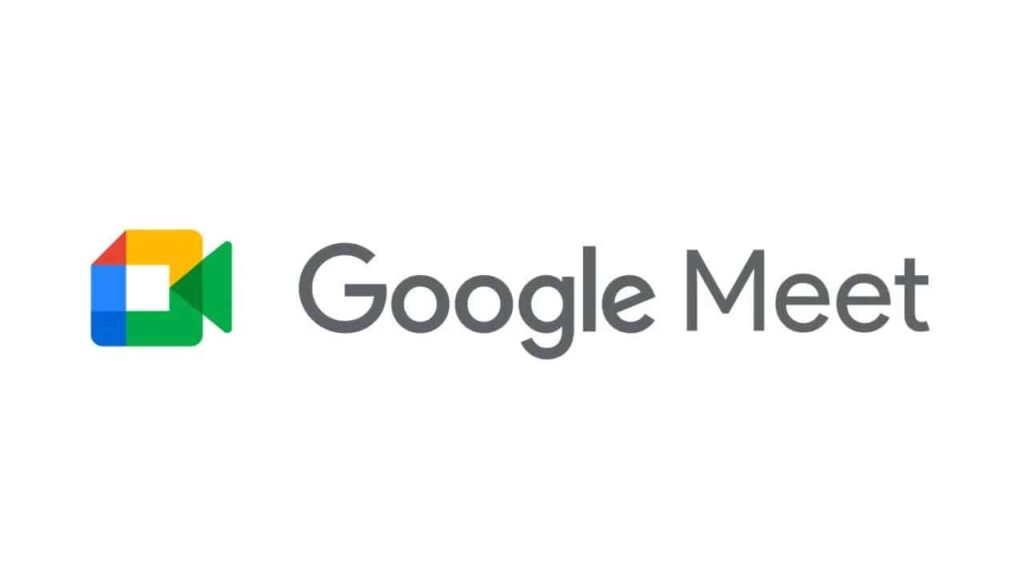 If you're not a big fan of Zoom or if you already have a paid Google Suite account, then Google Meet is another great alternative for audio and video calls.
Google Meet, previously called Google Hangouts, is a video conferencing app that's part of the Google Workspace suite. It works on multiple devices and lets you take and hold great quality video calls.
It also has relatively stable video calls, which makes it a great alternative for video calls, and more. Google Meet also has a chat application that lets you communicate with team members without having to drop all things on your plate to enter a video conference call.
13. Coffitivity
Best for: Background Noise Generation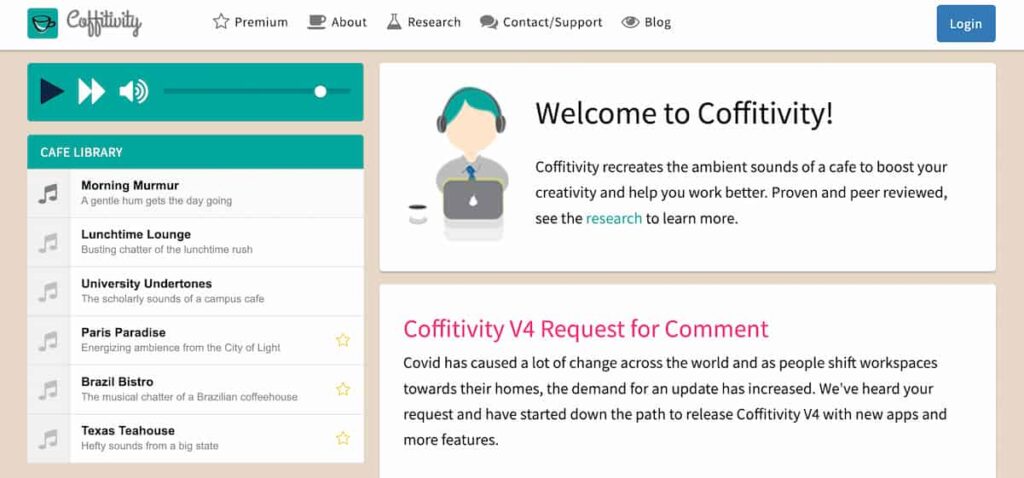 Sound plays a crucial role in productivity. We're easily distracted when there's music with lyrics or loud noises around us. But there's actually a lot of strong research behind the correlation between productivity and soft rhythmic sounds, such as coffee shop chatter.
Enter the super useful app, Coffitivity, which lets you play various background noises that can help with your focus and deep work. It's relatively simple to use this app. You can head over to their website and start playing any of their free background noises that mimic the environment of your favorite coffeeshop.
14. Otter.ai
Best for: Transcription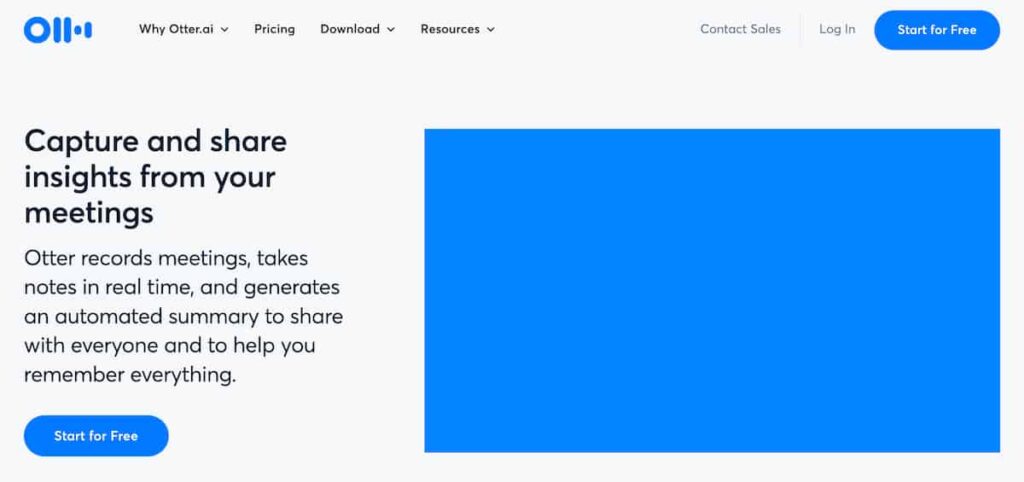 If you need something transcribed like meeting notes or scripts, there's no point in doing it manually nowadays. That's because you now have access to easy-to-use app options like Otter.ai.
We use Otter all the time to make transcriptions. It helps save a lot of time and energy spent turning audio and video files into written text. It's also great for note-taking if you don't want to type your thoughts manually. You can just speak straight into Otter and let it do the transcribing for you.
Otter.ai's free basic plan gives you up to 300 minutes of transcribing and up to 30 minutes per conversation. Their paid plans start at $16.99 a month.
There are other apps for transcribing as well, but so far, Otter is one of the most reliable ones. Plus, its extensive free version makes it extra appealing to those who don't want to spend for transcriptions if they don't use it too regularly.
15. Whimsical
Best for: Workflow Documentation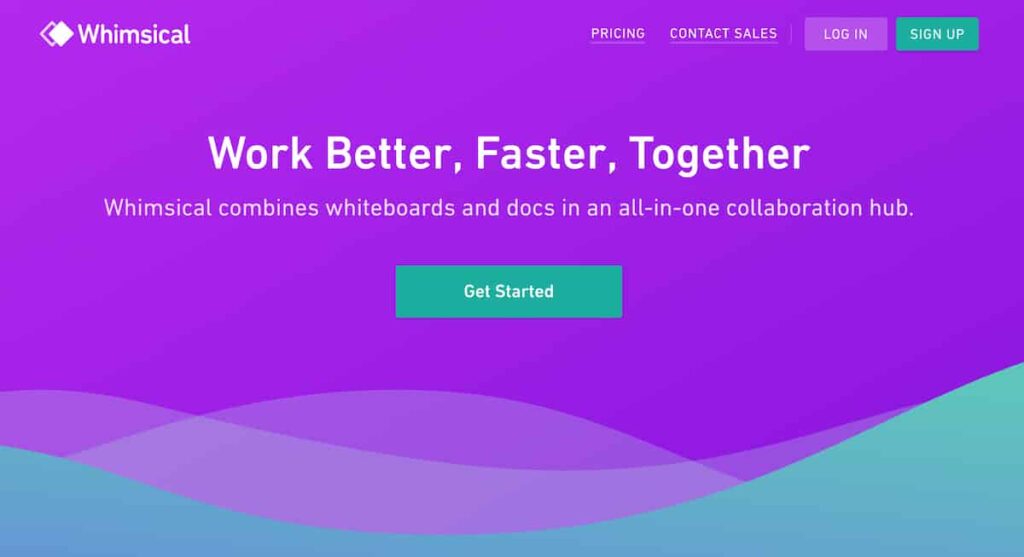 If you like mind mapping or creating flow charts, so you can visualize your workflow or teach team members how a standard procedure works, you need to check out Whimsical.
The tool is something you want to have when you manage projects that involve a lot of regular rhythms. With Whimsical, you can visually show how a process normally works.
I've used Whimsical to map out step-by-step processes for things like onboarding, client acquisition, project timelines, events management, and more. It's also great if you want to create organization charts too.
Whimsical is a collaboration tool that will do your team wonders. Anyone managing projects and teams should use it in their operations.
16. Jibble.io
Best for: Time Tracking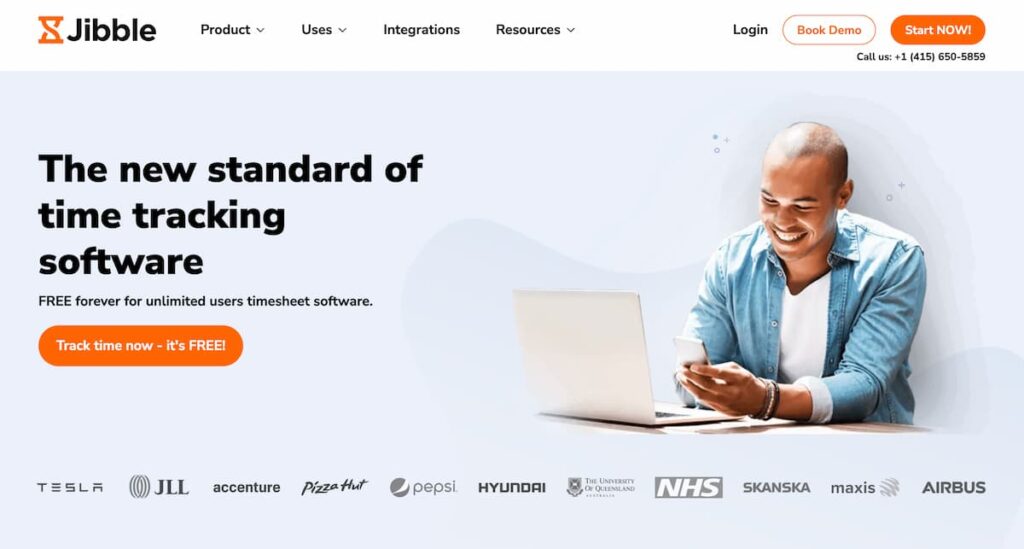 There's been a lot of back and forth regarding the importance of tracking hours, especially when done by managers with the intention of micromanaging staff (been there!).
But if you want to track time to measure the hours you spend working on tasks in your to-do list, then Jibble is a great productivity app to try out. Jibble is great because it integrates with Slack, making it easier to track hours worked.
In my personal journey to improve my personal productivity, I have found time tracking to be important. That's because my goal has been to decrease the number of hours I work. Using time-tracking software like Jibble is a great way to help me monitor my progress toward that goal.
The time-tracking tool has a great free plan, too, by the way. Paid plans start at $1.99 per user per month.
17. One Sec
Best for: App Blocking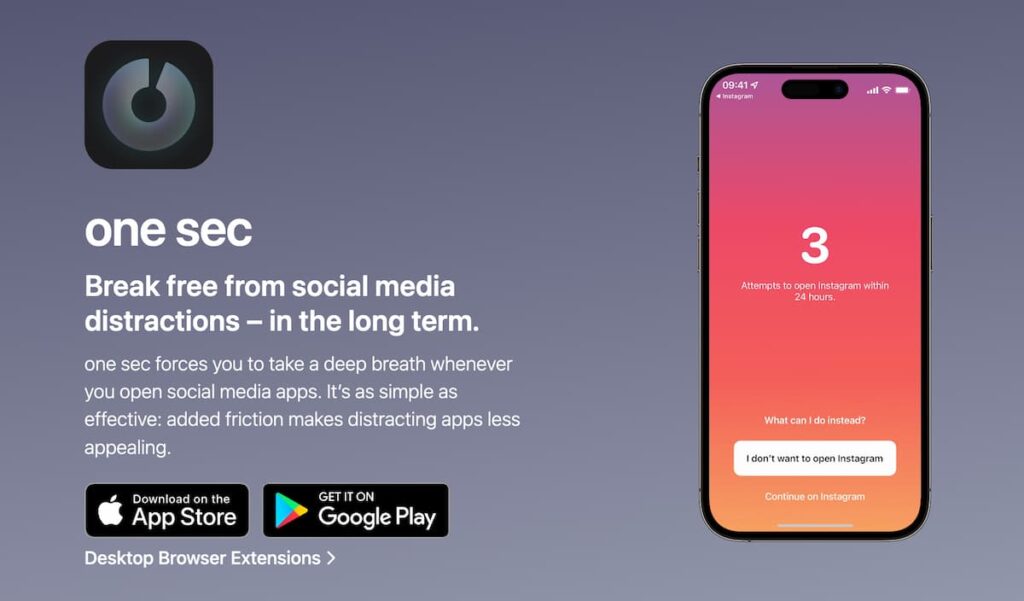 One Sec is a mobile app that you want on your phone if you want to stay focused on heads-down work and beat those due dates. It's an app that will block distracting websites and apps in a creative way.
For instance, if you wanted to open Facebook, you'd have to complete tasks like taking ten-second-long breathing exercises or rotating your phone, among others.
Technically, One Sec doesn't block apps. It delays use. But I have found that this is actually more beneficial in certain cases. In my case, I've been able to cut social media use by up to 30% since using One App myself. Now, I don't spend more than an hour on work days on social media (baby steps).
There's a free version for One Sec, but you can also make in-app purchases to get additional features like time-tracking, adult content blockers, focus sessions, and more.
18. Vidyard
Best for: Recording Tutorials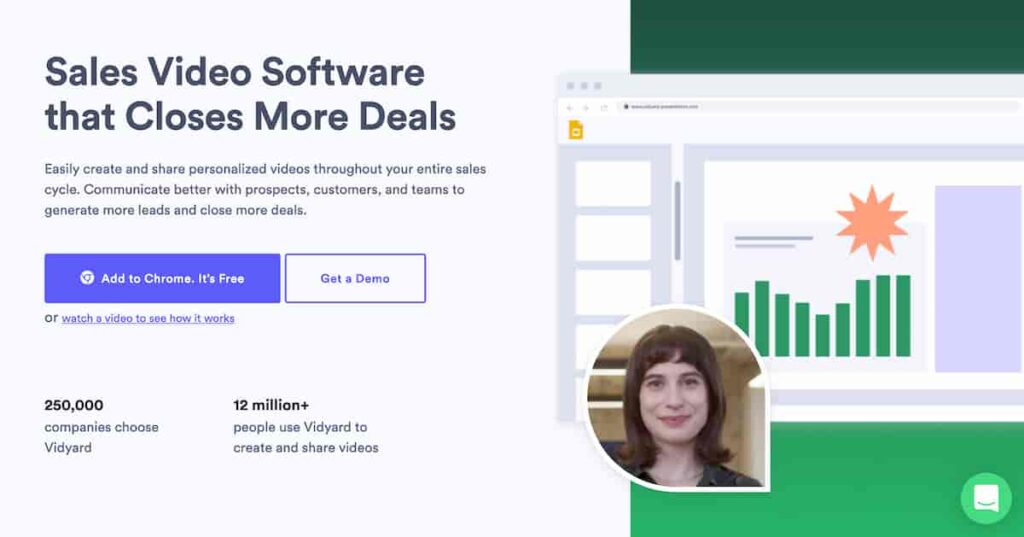 If you don't want to hop on a 10-minute video call with your team members to give instructions or updates, Maybe using Vidyard is the thing for you. Vidyard lets you do screen recordings and share it with people online with relative ease.
Vidyard is perfect for recording instructionals, SOPs, things you want to remember, and other short videos for internal or external use.
Vidyard works via a browser extension that you can easily access to record your screen and explain something before sending it to team members, colleagues, staff, or friends. There are different apps that do this, too, including…
19. Loom
Best for: Recording Tutorials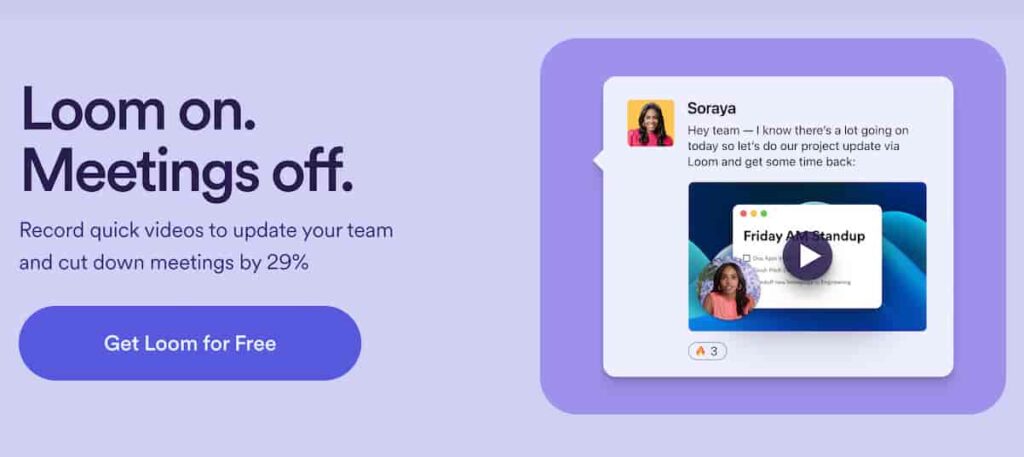 Before using Vidyard, I used Loom, which is also a great screen-recording web app with a browser extension. It's actually more popular in most circles, especially if you want to do lightweight videos.
But for longer instructionals, Loom might be an issue as its free plan only allows you to record 5 minutes at a time.
20. Buffer
Best for: Social Media Post Scheduling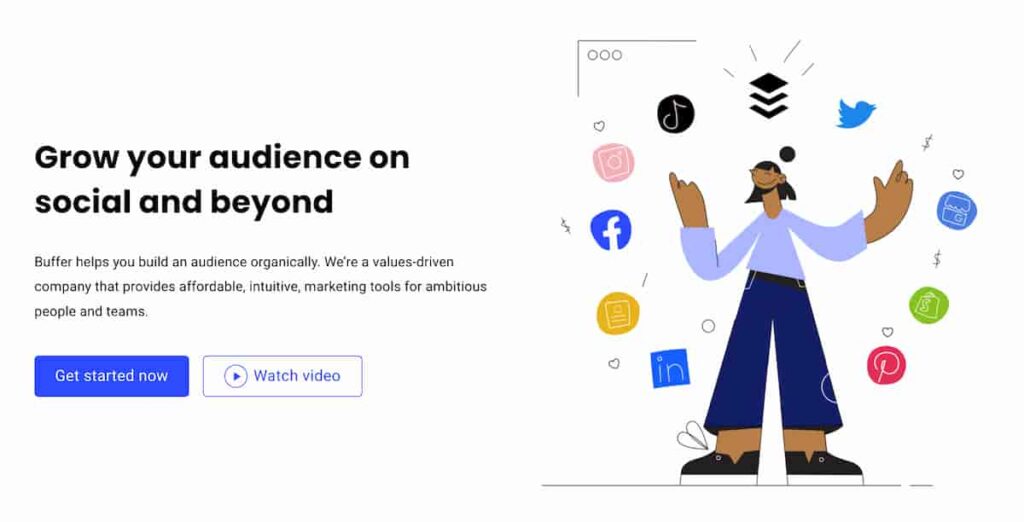 Moving to another category of productivity tools, Buffer is an app you can use for social media management.
Whether you're a business owner managing your own social media, a marketing employee handling a brand's platforms, or an agency, this tool will help you save a ton of time.
Buffer lets you schedule social media posts ahead of time so that you can let them go out on Autopilot. They're great if you want to handle multiple social media accounts and not lose your mind over having to post them manually across the week.
Buffer also does other things, including providing you with a content planning dashboard and giving insightful analytics to help you get more results out of your social media work.
There's a free plan, but Buffer's $6 per channel per month pricing doesn't break the bank much either.
21. Later
Best for: Social Media Post Scheduling (Instagram)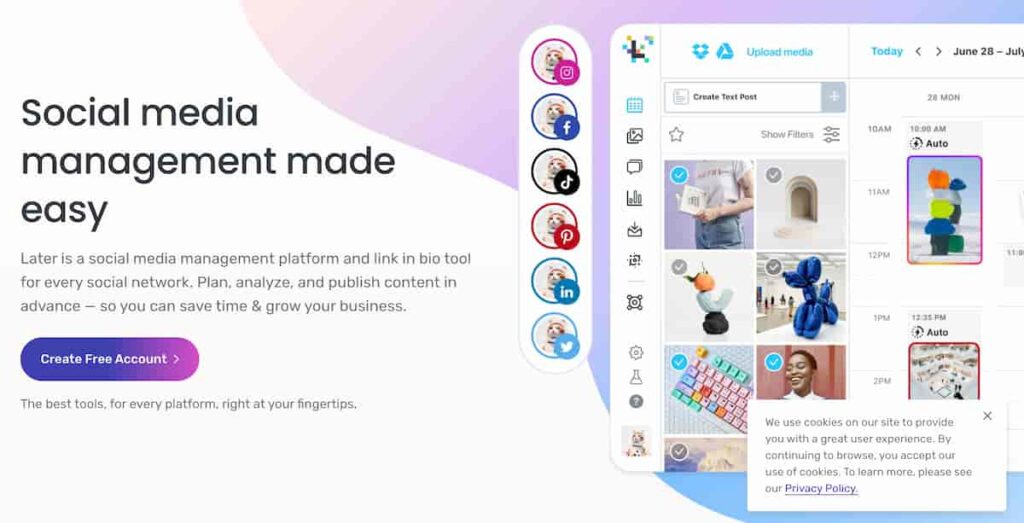 Later is another social media content scheduling tool like Buffer, but I had to mention this option because it has some clear distinctions in capabilities. This tool is a whole lot better for Instagram posts, as it lets you visualize what your grid will look like once your posts go up.
We currently use Later alongside Buffer in our agency, Block Ten Strategy, to manage over a dozen social media channels at a time for several of our clients. It works wonders.
Usually, I use Buffer for my own personal stuff and let our team use Later to post out agency work, as it allows us to visually show them what their grid on Instagram will look like once their posts go up.
Later charges $18 a month for one social set (one account each for Facebook, Twitter, Instagram, LinkedIn, Pinterest, and TikTok. They also have higher plans with more features.
22. Grammarly
Best for: Content Proofreading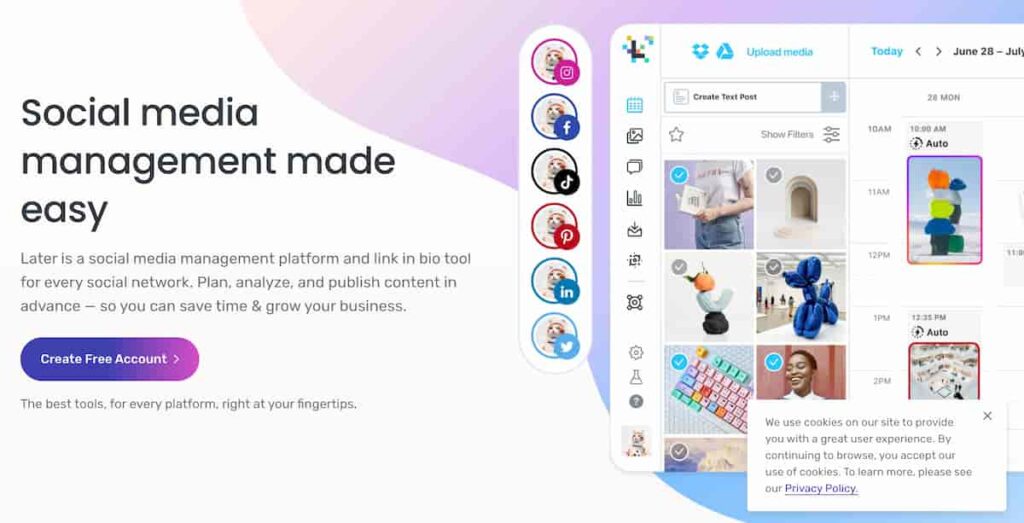 Grammarly is today's most famous proofreading tool. It checks your written content and gives you insights to improve readability, spelling, grammar, and more. It has an amazing extension that checks anything you type into an online document or field.
One might think that Grammarly is a tool only writers use. But you'll be surprised how many use cases it has for any professional. For instance, everyone sends emails. And if you want your communications to be crisp and professional, you have to run them through a tool like Grammarly.
23. Evernote
Best for: Note-taking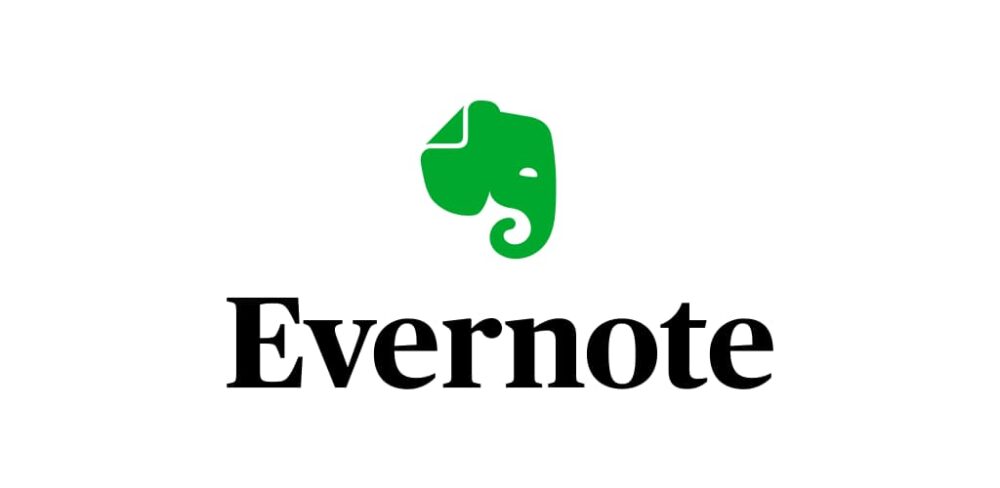 I know we mentioned a few other note-taking apps already on this list, but we can't wrap this guide up without mentioning Evernote. It's a great tool that lets you take organized notes, document multiple tasks, set due dates, share documents, and more.
It's been a while since I've used Evernote myself, given that Notion does the job for me. But I still have a fair number of friends who love Evernote to track their own tasks. At some level, it can also be a collaboration tool, as you can easily share documents from Evernote with others.
There's an app that lets you edit notes on multiple devices. It's great for assigning tasks, tracking progress, and completing tasks more simply.
Evernote is free to use for up to 2 devices and 60 MB of documents. Beyond that you can start paying for their affordable plans.
24. Pipedrive
Best for: CRM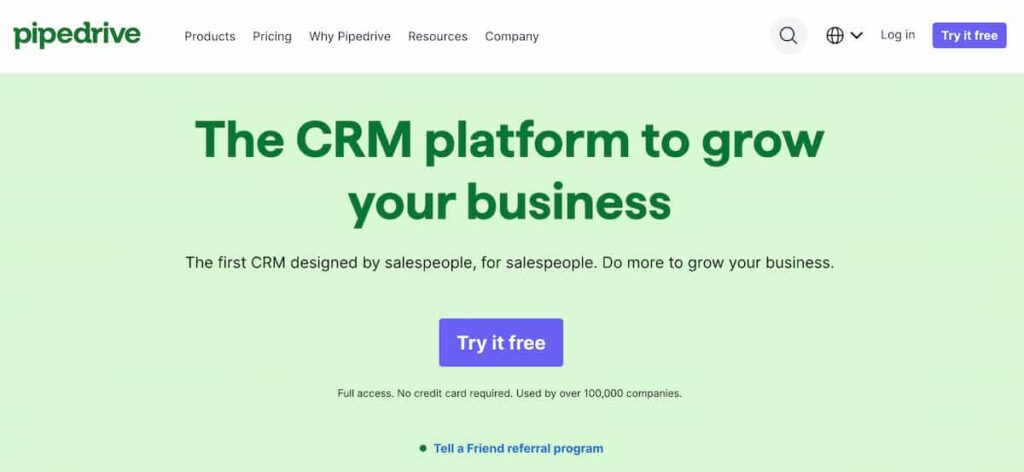 If you're a business owner or sales professional, you'll need a CRM or client relationship management software. This is a tool that allows you to manage leads, prospects, and customers more effectively by giving you an email management dashboard, sales pipeline, and other cool features.
I personally like using Pipedrive as it's simple enough to learn and use. There are also great analytics and reports that show you how well your inbound and outbound marketing efforts are working.
Pipedrive runs on a paid-only structure starting at $15 a month.
Frequently Asked Questions [FAQ]
Do you have any more questions in mind about productivity apps? Let's go through some of the most common.
What is a productivity app?
A productivity app is any software, application, or tool that lets you improve your work output and/or lessen your work input. Essentially, it helps you eliminate time-consuming tasks while also achieving more.
Any software that lets you do that can be considered a productivity app. Though in a stricter sense, too, these apps are normally the ones that let you manage tasks, collaborate with team members, and streamline your work, so you're not easily overwhelmed all the time.
Are productivity apps effective?
There's a lot more that goes into productivity than using productivity apps. You also have to set discipline and habits in place to strengthen your personal productivity.
Then you'll also need to create an environment that allows you to work well. We'll probably discuss that in another blog in the future.
But productivity apps do help a lot when you use them well and consistently. I've personally experienced many amazing benefits to my workflow when I started using most of the apps I mentioned above. I started working less, doing more, earning more, and managing my energy and time better.
So, in the right hands, productivity apps can do wonders. But so much of the results depend on how consistently you use them and how well they fit into your context and meet your personal needs.
I also find that having productivity apps on my mobile devices helps me manage my workload and helps with consistency.
How do I remain productive?
So if you're wondering what habits and practices help you to be more productive at work, here are a few tips and tools to follow.
Use the right productivity apps
Using the top apps for productivity is definitely practice number one. Tools are there to amplify your work. But you also have to use the right tools for the right job. If you use pliers to hammer down a nail, don't expect the same result.
Manage your stress levels
41% of workers say that feeling stressed causes them to be unproductive. So managing your stress levels will help you remain more productive throughout a workday or when you're studying.
Don't overstuff your day with things to do. Strategically defer the tasks that aren't too urgent so you have more headspace and breathing room throughout your day. Try to eliminate or minimize stressors in your life like noise, alerts, and so on.
When you're stressed, don't jump straight into work. Take the time to decompress and refocus so you can put your mind to doing the best quality work when you're ready.
Avoid distractions
The biggest enemy of your productivity is distraction. And the bad news is that the world abounds with all kinds of distractions.
From phone alerts, social media, noise, interruptions, work chatter, and so many more, we get distracted by all sorts of things all the time.
To avoid distractions from your phone and mobile devices, you can use the app blocker I mentioned above. It also helps to put your devices in work mode, so you don't get message alerts at certain times of the day.
Setting a time for heads-down work and keeping it sacred also helps. If you're working in an in-office environment. Let your team members know that you're off-limits if you have your headphones on. If you can, suggest this as one of your in-office policies.
Keep growing and learning
Lastly, realize that productivity is not a one-time thing. You grow more and more productive the more you learn.
So keep an eye out for new principles, practices, and apps. Keep testing and challenging your current workflows because there's always something to learn.
Whether it's how you manage tasks, mobile apps you use, or techniques you employ, try and see if there are ways to improve or other alternatives. Don't be too much of an evangelist to just one way of doing things.
Are paid productivity apps always better than free ones?
There are several good reasons why software companies add paid plans to their structure. For one, they need to if they want to keep the service sustainable. After all, these app developers are businesses that need to cover expenses.
Often, to incentivize an upgrade, they gate the best features and reserve them for premium members. I work with several software companies, and this is always the case.
But that doesn't mean that you'll always need to pay for software. If you're okay with the free version of a certain service, continue using the free one. After all, every penny saved is another penny earned.
But once you want to start maximizing a tool, you can start paying for them. Think of your productivity app subscriptions as an investment. You're not just paying for software. You're paying for more time and energy.
At the end of the day, we need to deem our time and energy as more valuable than the dollars that we put into our productivity tools.
If you're working in a company that can pay for these tools for you, bring it up the chain of command. Your superiors could be more than happy to pay for them for you if it means they bring you more results.
Can I use productivity apps if I'm not very tech-savvy?
This is the golden question that I get asked a lot when discussing apps and productivity. There seems to be a stigma around technology and productivity in this modern age.
First and foremost, technology isn't the only way to be productive. Of course, many of these apps have analog counterparts. If you like using a manual planner instead of Notion and Google Calendar, that's fine too.
But there are many ways that technology can amplify your workflows. And the good news is that many of these apps are quite intuitive, meaning you can learn them relatively easily. Sure, there will be some learning curve to the experience.
But I have found that everyone will experience a learning curve with anything that's new to them. Even techy people will experience a learning challenge with any new tool.
And, yes, it will be harder to learn a new tech-based tool if you're not already used to digital solutions. But your willingness to learn is a bigger hurdle than your ability to learn. Focus on the benefits that the tool will bring you and you won't feel too challenged when learning a new tool. Who knows? You could even enjoy the process.
Final Words
There are many other tools out there, but these are my top picks and the ones I can vouch for because I've used them myself. What other productivity apps do you recommend?
When pursuing greater productivity, keep your eyes on the prize. Think about all the things that these tools can do for your schedule, work day, study habits, and life if you establish them into your daily rhythms. All the best, my friend!